Trusted by the Nation's Most Elite Companies and Government Agencies
For more than 25 years, Collective Data has been providing innovative, scalable, and proven cloud-based fleet and asset management solutions.
What can your organization do with our software?
Streamline manual processes and improve your bottom line—without ever having to rely on a spreadsheet.
Connect and integrate all your asset management data into a central hub. Our mission control dashboard might look complex, but it's user friendly.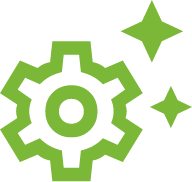 Unsurpassed Flexibility, Configurability, and Scalability
When regulations change and economies scale, Collective Data's cloud-based fleet and asset management solutions adapt. They're easy to get up and running and play nicely with tools and applications you're already using.
Backed by a Talented Team That's at Your Side
Our team will not only get you up to speed, but they'll stick with you along your journey. You'll have access to our exclusive training and education resources, as well as on-site training opportunities and 1:1 attention.
The Collective Data story officially began in 2000, but the foundation for the business was built nearly a decade earlier. Founder Jason Wonase was working full-time for NCS (Pearson) as a programmer after graduating with a degree in computer science in 1993. He was assigned to a project designed to evaluate high school assessment tests. During the assignment, he met his business partner, Kevin. Jason's childhood neighbor, Steve, would later become an equal partner in the business.
In their spare time, the trio began sharing ideas for a more highly functioning system. They envisioned one standard platform that would make the system more efficient. With this in mind, they wrote a business plan and embarked on developing their own product to compete against NCS.
Jason, Kevin, and Steve presented their software idea to the team at NCS and received no interest. They decided to write their own code, moving on to the design and development of a software program that would enable bowling leagues to track participation, record scores, and manage leagues—all based on Kevin's experience as a bowler.
In 1997, Jason, Kevin, and Steve registered the business as Champion Software, becoming equal partners writing code and developing ideas while also maintaining full-time employment. Still reeling from NCS's lack of interest in their software idea, they decided to set a less ambitious goal for their initial product offering: a vehicle tracking program.
Though they launched their first product, 'Auto-Do-It,' and were generating revenue from offering custom built computers and networking services, Champion Software lacked the capital to continue and decided to call it quits. Jason accepted a contract job at NCS Pearson, and soon after, he had the opportunity to present the group's original product idea and share it with other developers.
This opportunity marked the true beginning of Collective Data.
In 2003, Jason moved his business to the old South Slope Building in North Liberty, Iowa. This is where he developed the collectiveFleet® software platform.
By 2008, he was the sole owner of Collective Data. As the economy began to erode and clients backed out of contracts, the future of the business seemed grim. Jason considered selling the business, but despite having an offer in hand, he decided to persevere and prove Collective Data could work.
From this point forward, the company has experienced annual growth.
In 2013, Jason and the team began working on a web-based application and launched it the following year. By 2015, the web-based version was thriving, and Collective Data grew to 18 employees. Amid historic flooding in Collective Data's newly constructed office in Cedar Rapids, a product acquisition, and staffing changes, the company flourished.
In August of 2017, Collective Data was chosen as one of the Inc. 5000's fastest growing companies and recognized by the Corridor Business Journal for the second time in company history.
This was Collective Data's most successful chapter yet.
Collective Data continues to grow, providing solutions to various industries and continually growing our team to ensure top-notch service for our clients. In 2022, we fulfilled one of the company's earliest goals to design our software into a layered application. This milestone has given us the ability to sell and support heavily configured applications without compromising our ability to update and upgrade through automation.
And we're still writing our story.
We look forward to continuing to grow and provide more easily configurable applications and automations to ensure clients always receive the latest software updates.
You're looking at a powerhouse of highly skilled technical and customer-focused professionals, each with an average 15 years of experience. You'll quickly see why we can provide innovative software technology like no other in our market.